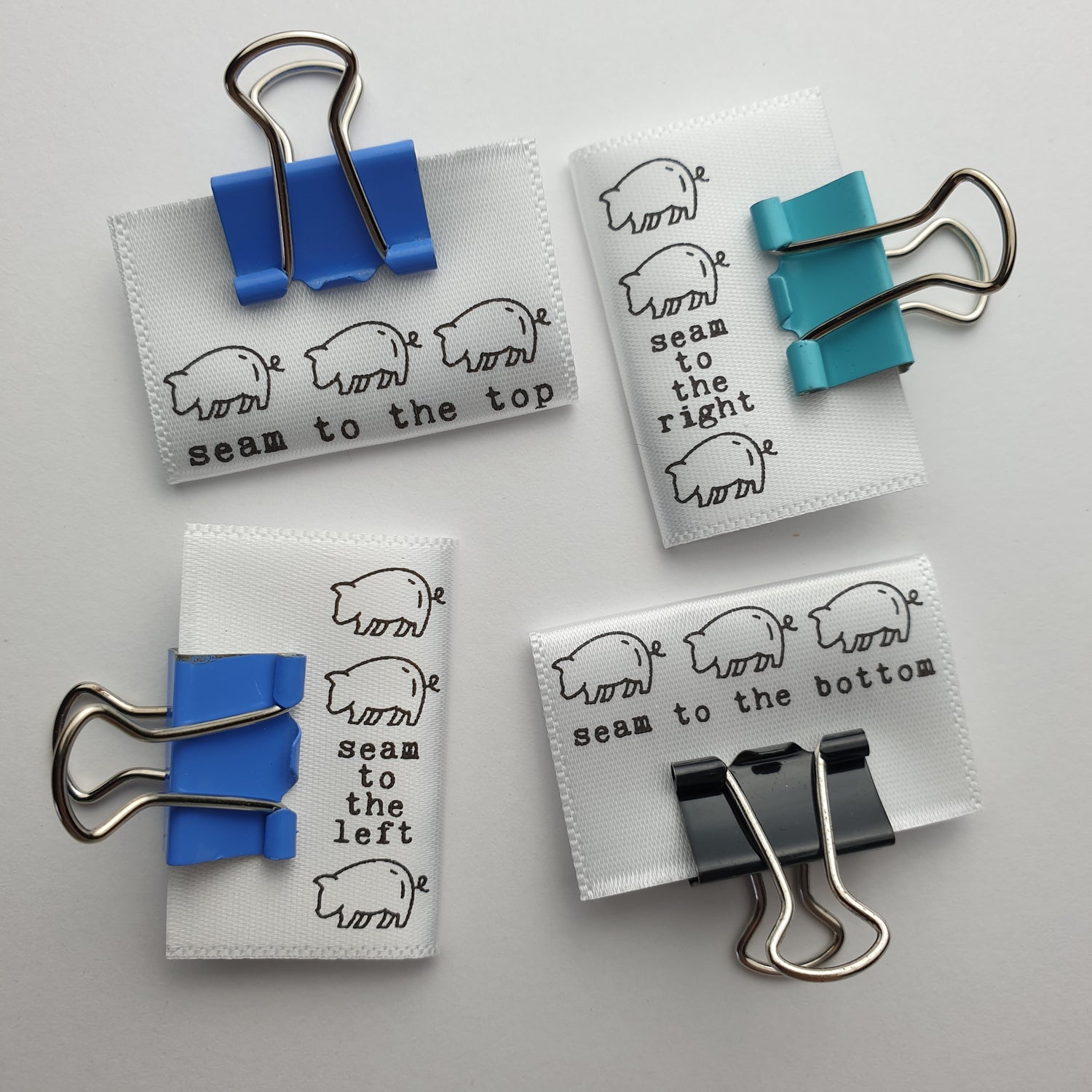 Seam orientation - what does it mean?
When we ask you how the seam is orientated keep in mind we are looking at the logo the right way up on screen.
We need to know the location of the seam when looking at the logo the right way up.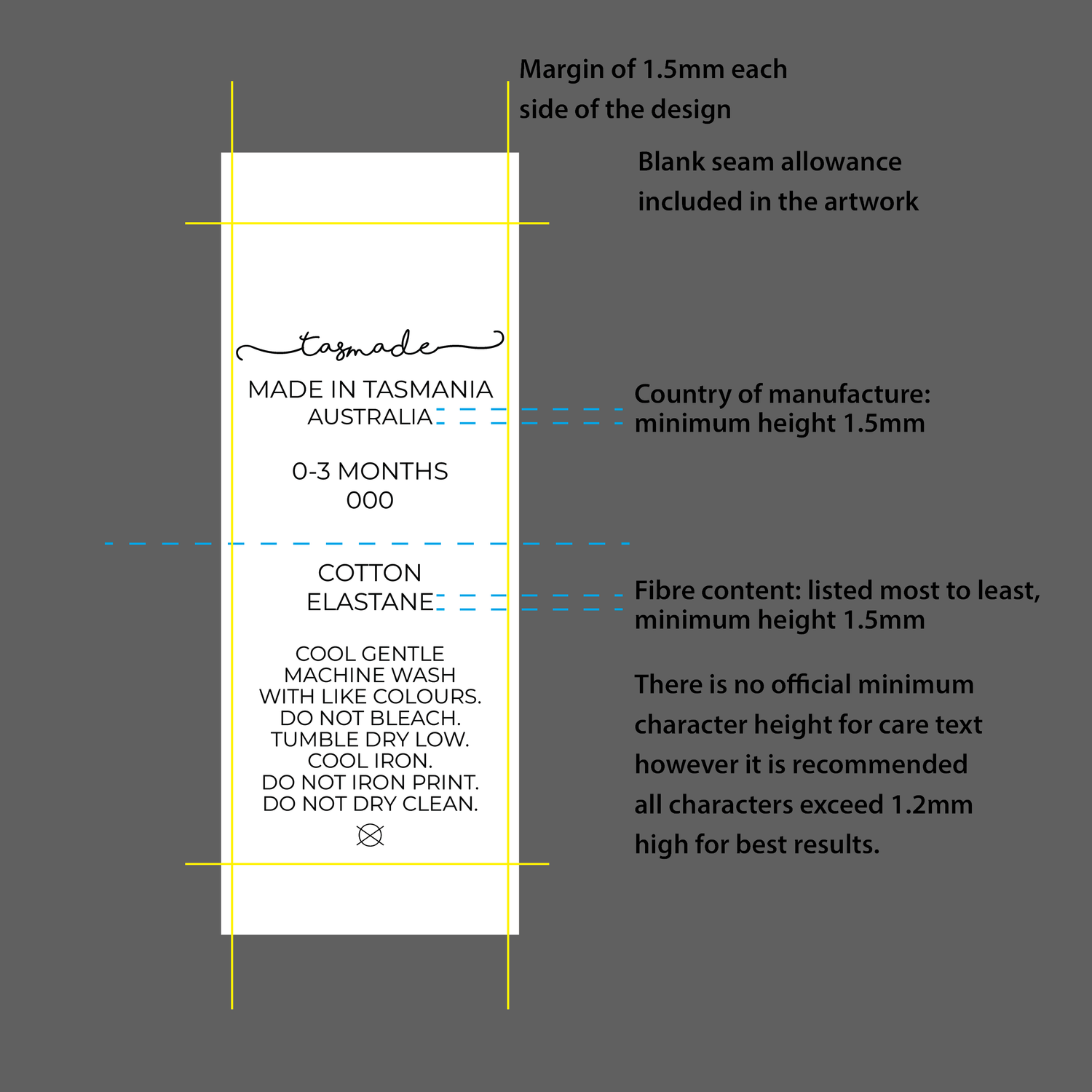 Semi-permanent print: Designing your own file
You can upload a predesigned file if you wish to design the file yourself.
The most important things are listed below.
File resolution
✱ when supplying a non-vector file (that cannot be scaled without losing resoltuion) a minimum of 600 pixels per inch or 236px per centimetre is required. We find the most foolproof method for programmes like Canva or Go Daddy Studio is to create the artboard in cm instead of millimeters at a scale of ×10 - e.g. 32cm instead of 32mm wide material.
Designing a file that prints well
For both semi-permanent labels and permanent labels we recommend making sure any black colour you use is a rich black rather than 100% K Black.
Black printed with only 100% K ink is a paler black than when blacks are printed using a combination of all the ink colours - cyan, magenta, yellow and black.
Although the semi-permanent labels are printed in positive and negative, the most stark contrast of black and white also produces the best result.


100% K Black
#231F20
C0 M0 Y0 K100
Rich Black
#000000
C75 M68 Y67 K90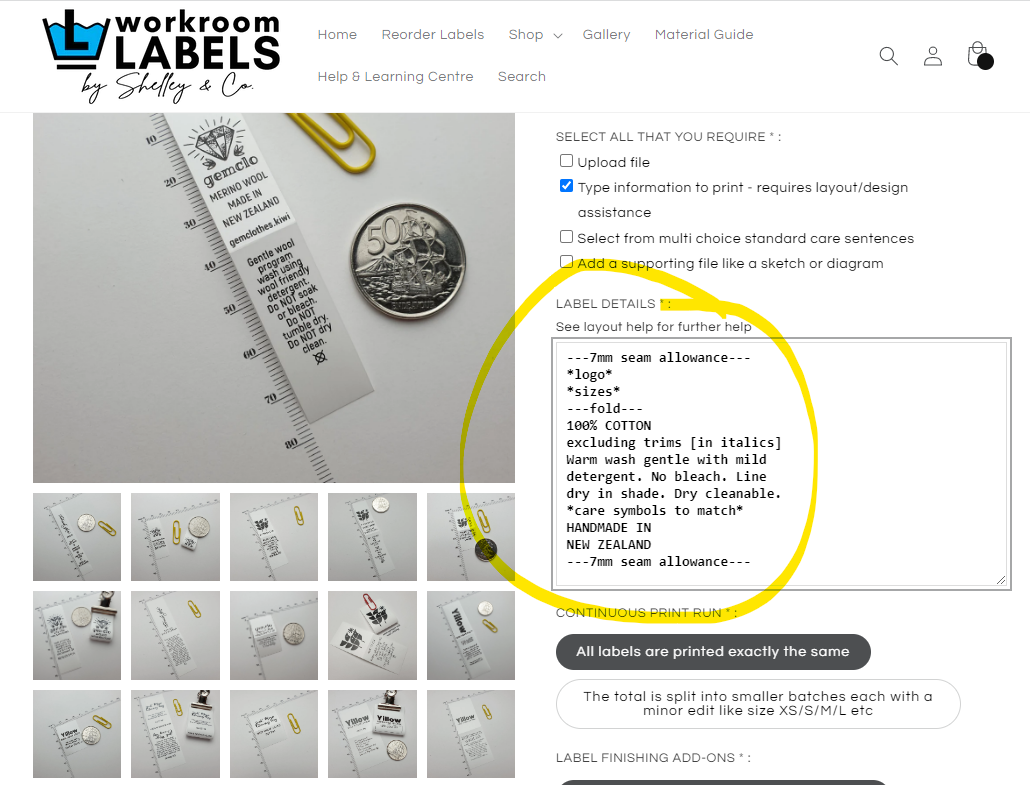 Typing your text into the order form
Example of typed label information
---7mm seam allowance---
*logo*
*sizes*
---fold---
100% COTTON
*care phrases as selected*
*care symbols*
HANDMADE IN
NEW ZEALAND
---7mm seam allowance---
Label types & ways to attach them
A label is not just a label. The different types of label types affects the layout/positioning of the logo and other information printed on the label. Ordering the right kind of label and telling us the correct seam allowances will mean that the labels arrive to you fit for purpose. We don't always know the end use, so we reply on customers choosing the layout and orientation correctly when ordering.
ENDFOLD LABEL SEWN EACH END

Endfold labels are designed with extra fold back allowance each end. Between 5-10mm each end can be folded under and then the labels are sewn down the folded edges.

Suitaable materials: satin, soft twill, polyester/cotton or pure cotton.

Shop endfold labels

ENDFOLD LABEL HAND TACKED EACH END TO KNITTED ITEM

Straight cut labels are hot cut and non fraying and they are sewn on flat. This example is edge stitched down the left and right sides only.

Shop endfold labels

STRAIGHT CUT LABEL SEWN ALL AROUND

Straight cut labels are hot cut and non fraying and they are sewn on flat. This example is edge stitched the whole way around.

Shop sew-on-flat labels
STRAIGHT CUT LABEL SEWN EACH END

This type of label is hot cut and non fraying. It is attached the same way as an endfold but there is less bulk each end because no edges are folded under. Due to the lack of folding, this is a quick and easy label to attach.

Shop sew-on-flat labels

STRAIGHT CUT LABEL HAND TACKED TO KNITTED ITEM

This type of label is hot cut and non fraying, the label can be hand tacked each corner or down any of the edges to a knitted item.

Shop sew-on-flat labels

STRAIGHT CUT LABEL SEWN ALL THE WAY AROUND

This type of label is hot cut and non fraying, the label is attached like a patch by sewing the whole way around the edge.

Shop sew-on-flat labels
HOT CUT HEM LABEL HAND TACKED TO KNITTED HEM

This type of label can be hand sewn to a finished knitted garment. Each end of the label is hot cut and then the whole label folds in half. This type of label is quicker to attach and less bulky than a bookfold/trifold label.

Shop single fold hem labels

HOT CUT HEM LABEL SEWN TO A HEM

This type of label can be sewn to a finished garment. Each end of the label is hot cut and then the whole label folds in half. This type of label is quicker to attach and less bulky than a bookfold/trifold label.

Shop single fold hem labels

BOOKCOVER/TRIFOLD HEM LABELS HAND TACKED TO KNITTED LABELS

This type of label can be sewn to a finished garment. Each end of the label folds back and then the whole label folds in half. Some materials that fray readily may need to be hot cut to avoid the turned under ends to fraying during washing and wearing.

Shop trifold hem labels
BOOKCOVER/TRIFOLD HEM LABELS SEWN TO T-SHIRT HEM

This type of label can be sewn to a finished garment. Each end of the label folds back and then the whole label folds in half. Some materials that fray readily may need to be hot cut to avoid the turned under ends to fraying during washing and wearing.

HOT CUT LOOPFOLD/CENTREFOLD LABEL

Suitable for relabelling premade garments, this type of label has hot cut/sealed ends and loops in half or is folded in half and the very ends are stitched onto the garment approximately 2mm from the cut ends.

Shop loopfold/centrefold labels

MANHATTAN FOLD LABEL SEWN TO BACK NECK

This type of label is suitable for relabelling pre-made garments. The top of the label is folded down and the underside of the loop is caught into the stitching. This label has 12mm seam allowance one end and 5mm seam allowance the other end. Request manhattan seam allowances on your order.

Shop loopfold/centrefold labels
LOOPFOLD/CENTREFOLD LABELS TACKED TO SEAM ALLOWANCE

This type of label can be sewn to a premade garment and is commonly seen when care instruction labels need to be added to a finished item. The labels need a 5mm seam allowance and are best made with hot cut ends or non-fraying polyester tape.

Shop loopfold/centrefold labels

LOOPFOLD/CENTREFOLD LABELS SEWN INTO THE OVERLOCKED SEAM

This type of label is overlocked together with the fabric and the ends of the label are protected inside the overlocked edge. The labels need a 7mm seam allowance.

Shop loopfold/centrefold labels

LOOPFOLD/CENTREFOLD LABEL SEWN INTO SIDE SEAM

This type of label is the same as the previous example except it has 10mm seam allowance. The label is placed onto the material prior to overlocking the seam and is then also caught in the row of straight stitching as well.

Shop loopfold/centrefold labels
HOT CUT SINGLE LAYER LABEL TACKED TO SEAM ALLOWANCE

This type of label can be sewn to a premade garment and is commonly seen when care instruction labels need to be added to a finished item. The labels need a 5mm seam allowance and must either be hot cut or non-fraying polyester tape.

Shop single layer labels

HOT CUT SINGLE LAYER LABEL OVERLOCKED INTO SEAM

This type of label is a single layer with hot cut non-fraying ends or is made from non-fraying polyester tape. The labels have a 7mm seam allowance and are caught into the overlocked seam when sewing.

Shop single layer labels

HOT CUT SINGLE LAYER LABEL SEWN INTO SEAM

This type of label is the same as the previous example except it has 10mm seam allowance. The label is placed onto the material prior to overlocking the seam and is then also caught in the row of straight stitching as well. The ends are hot cut.

Shop single layer labels
SMALL SIDE SEAM LOOPFOLD/CENTREFOLD LABEL

This type of label is sewn into the seam poking out towards the outside of the garment when worn. The label either has 7 or 10mm seam allowance and is folded or looped in half. To create a small loop usually this type of label uses less than 44mm of material length per label including seam allowances.

Shop small side seam labels

SIDE SEAM LOOPFOLD/CENTREFOLD LABEL

This type of label is sewn into the seam poking out towards the outside of the garment when worn. The label either has 7 or 10mm seam allowance and is folded or looped in half.

Shop small side seam labels